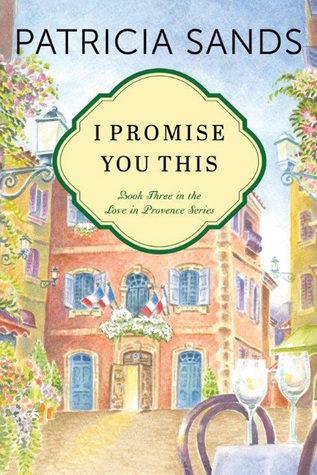 I Promise You This
Patricia Sands
This book follows the story set out in the two previous books, The Promise of Provence and Promises to Keep. At this point in the story Katherine has returned to Toronto from the South of France because her best friend Molly has been involved in an accident that left her seriously injured. Katherine is also grappling with her feelings about relocating to France to be with Philippe on a permanent basis. She is not in doubt about her feelings for Philippe but she's feeling unsettled about leaving friends, family and everything that feels like home behind.
As Molly's situation improves, Philippe comes to Toronto to be close to Katherine. With the support of those closest to her she decides she is willing to take a chance on love and make the move back to France. Once there, she realizes she wouldn't want to be anywhere else.
I was happy to be reunited with all the characters from the previous books in this one. They all have their own stories that unfold throughout this series and as a reader I felt like I was accompanying each of them on an life changing journey. In the second half of the book the sights and smells of France permeate the pages, which made it a joy to read. Frankly, it was so easy to get caught up in the characters, the setting and the story that I felt like I was on vacation. And the upbeat nature of the story made it a book that I didn't want to end.
Thanks to Netgalley for allowing me to read this book in exchange for an honest review.