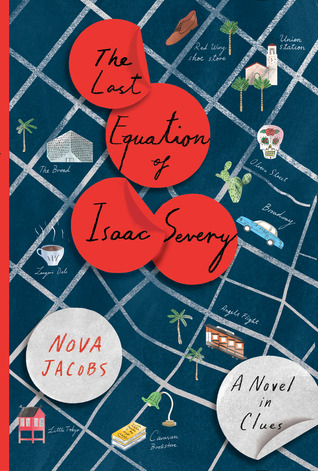 The Last Equation of Isaac Severy
Nova Jacobs
Hazel Severy's grandfather Isaac Severy has just died, the cause is an apparent suicide, but Hazel isn't so sure, mainly because Isaac has left her with a mysterious letter. He has asked that she find his last mathematical equation and hand it over to a trusted friend before it falls into the wrong hands.
Hazel isn't particularly mathematically inclined, so she isn't sure why her grandfather hasn't left the equation her his son Philip a professor of theoretical physics or her brother Gregory, a police officer, or the long lost grandson, who shows up out of the blue at the funeral. Nevertheless, Hazel decides to proceed with her grandfather's wish, particularly as he has suggested in his letter that his death will not be the only one. But it isn't going to be easy for Hazel to find her way through the maze of obstacles or the other people who want to find the last great work of Isaac Severy. Nor is she particularly sure what all the fuss is about. Nevertheless, she feels she owes it to her grandfather to grant his last wish.
This book has everything going for it, a little mystery, a smidgen of romance, a dysfunctional family full of drama and layers of intrigue. It was a little unlike anything I've read lately. I loved it so much I couldn't put it down. Frankly, this surprised me as mathematics isn't a topic I assumed would be so thrilling, and yet this one was. The story was very well developed and a lot of fun to read. I can't wait to see what the author will come up with next.
Thanks to Touchstone for allowing me to read this in exchange for an honest review.