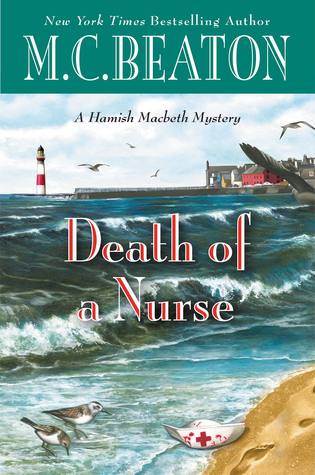 Death of a Nurse
M. C. Beaton
Hamish Macbeth is all ready to have dinner with Gloria Dainty, a private nurse caring for Mr. Harrison from the local hunting lodge. When Gloria doesn't turn up at the restaurant as agreed, Hamish thinks he's been stood up. That is until her body is discovered washed up on a local beach. Now Hamish and his new partner Charlie Carter have to help investigate her death.
This is an entertaining mystery full of colorful characters and local life in the Scottish Highland village of Lochdubh. Hamish has his own way of dealing with the locals when it comes to investigating crime. This is probably what makes him so successful when trying to find answers to all the questions that crop up in the investigation. There will be plenty of time for a wee dram of whiskey in this investigation, since the police force is just as cunning as the locals when it comes to finding out what happens in a small town.
Thanks to Goodreads giveaway and Hachette Book Group for allowing me to read this book in exchange for an honest review.