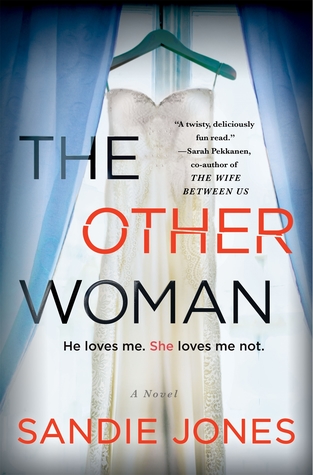 The Other Woman
Sandie Jones
Emily thinks she found her Mr. Right. Adam is the man she never expected to meet much less fall in love with. Frankly, she couldn't be happier, until she meets his mother, Pammie. Emily can do nothing right in Pammie's eyes. Emily can't stand the way Pammie is kind to her in front of others but cruel and manipulative when alone. Eventually, the toxic relationship between the two starts to take a toll on Emily. Nevertheless, she decides to soldier on as she plans for her perfect wedding. Of course, if Pammie has anything to do with it, the marriage isn't going to happen.

When Emily thinks she's had enough of the insufferable family dynamics, she finds she hasn't begun to understand what lies behind the complex relations of her fiance's family. She may have misjudged things right from the start.

This fascinating story about tangled relations was one I couldn't put down. Every page made me wonder about Emily. What did she want, how she was going to get it and, was worth it? As the cover of this book promised, the ending was one I hadn't seen coming. Jones has managed to craft an intricate story that is not only well written and suspenseful but full of ups and downs. Which makes The Other Woman a book I would highly recommend if you like an unexpected end.

Thanks to Minotaur Books for allowing me to read this book in exchange for an honest review.