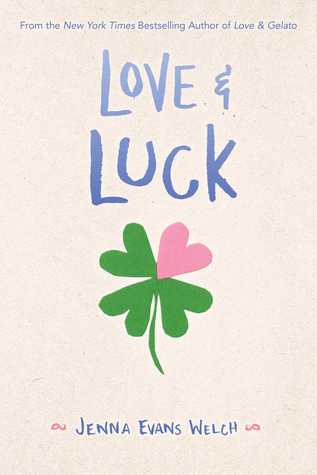 Love & Luck
Jenna Evans Welch
The cover on this book was so cute and, although I don't often read teen fiction I couldn't resist this one. In the story, seventeen-year-old Addie and her family have traveled to Ireland for the wedding of her aunt, Mel. Instead of enjoying the occasion, Addie is dealing with the fallout from the break up with her boyfriend Cubby. Her brother Ian insists that she tell her mom all about the breakup but Addie is resisting, and as a result, brother and sister have been involved in a fist-fight at the wedding venue.

She and Ian have plans to travel on to Italy after the wedding to visit Addie's friend Lina but, when Ian decides to change plans and meet up with his internet friend Rowan to attend a summer music festival showcasing his favorite band, Addie misses her flight. She tags along on the road trip through Ireland with the two, accompanied by her trusted guidebook for the heartbroken in Ireland, which comes complete with tips for getting over a broken heart. By the end of her journey, she might have the courage she needs to face the trip home.

Fun and full of action this is a great summer read for the teenage reader, or according to back cover anyone over twelve. I wish Jenna Evans Welch had been writing when I was a teenager because I would have loved this one.

Thanks to Simon and Schuster for allowing me to read this book in exchange for an honest review.