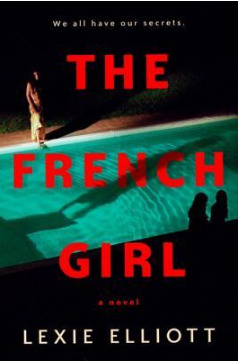 The French Girl
Lexie Elliott
A decade ago, when six college friends were having a break at a French farmhouse a local girl, Severine disappeared. When her body is found in a well, the French police arrive in London to question, once again the group of friends. So many years have passed, and most haven't given Severine a second thought, except Kate Channing, mainly because Severine haunts her daily. When the police seem to suspect that Kate may have something to do with the murder, she realizes that her career as a fledgling headhunter in London could be damaged if the rumors spread. But, if she didn't do it who did? What about the others? Did they have motive and opportunity for murder? It's hard to believe that the dark heart of a murderer could exist within this group, and yet it must.
The French Girl was a terrific read. I felt like I knew the characters by the end of the story. This one was superbly written with a great atmosphere and an ending that was not quite what I had expected. I also loved that the author followed the characters after the murderer had been uncovered. I didn't feel that I was left hanging in the end and it provided a satisfying sense of closure to the story. Hopefully, this debut novel will lead to more exciting stories from a talented writer.
Thanks to Berkley Publishing for allowing me to read this book in exchange for an honest review.