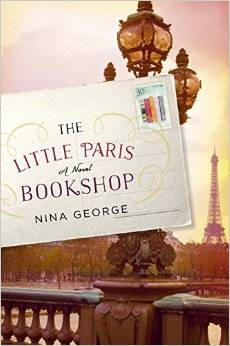 The Little Paris Bookshop
Nina George
Jean Perdu is a bookseller but, not an ordinary one. His book shop is on his barge moored in the heart of Paris, called the Literary Apothecary. He likes to prescribe books the way a pharmacist would prescribe medication to a patient. But this eccentric bookseller is struggling in his own personal life. He has closed himself off from most personal relationships for the past twenty-one years because he never got over the love of his life leaving him. He goes through the motions of everyday life but he isn't really living it.
When he finally opens a letter his former lover Manon left behind twenty years ago, he decides to pick up anchor and sail south in order to seek answers to his questions. He needs to come to terms with what his life once was and what it could be if he is open to change. He is accompanied on his journey by Max, a young writer looking for inspiration for his second novel, and others who cross his path along the journey. All are searching for something to make them feel more alive. And only by stepping out of their comfort zones are they likely to find it.
This mesmerizing, elegantly written story brings alive both the sorrow and joy that fill the lives of the main characters, especially Jean. It takes the reader on a journey, not only through France but through the meaning of life and love itself. Its filled with the foods and scenery of France and will likely linger like a good wine well after reading.
Thanks to Blogging For Books for allowing me to read this book in exchange for an honest review.